Shopping Basket
Your Basket is Empty
There was an error with PayPal
Click here to try again
Thank you for your business!
You should receive an order confirmation from Paypal shortly.
Exit Shopping Basket
Until this year, cruise lines were not responsible if a doctor or nurse on board a ship negligently treated a passenger.  The passenger could sue the doctor or nurse, who were usually residents of a foreign country.  This would make it very difficult to pursue a case. 
Recently, the 11th Circuit Court of Appeals in Atlanta recognized the right a cruise ship passenger to sue the cruise line directly for the negligence of doctors and nurses on board the ship.  
This case involved an elderly passenger who had taken a Royal Caribbean cruise ship to Bermuda.  While he was on the island, the passenger fell and struck his head.  He was transported back to the ship and immediately went to the ship's medical center.  He was first seen by a nurse, who did a short examination.  She did not order any scans to diagnose his head injury.  The doctor on the ship did not see the passenger for 4 hours.  Then there was an additional delay when they would not treat the passenger until they had confirmed his credit card information.  
It turned out that the passenger had a severe, life threatening brain injury.  He was transported back to his home and admitted to the intensive care unit of a local hospital.  Unfortunately, he died within a few days.  The delay in treatment on board the ship was a substantial factor in causing his death. 
The family members sued Royal Caribbean, claiming that the cruise line should be held responsible for the negligence of its medical staff.  Because of the requirement in the passenger ticket, the case had to be filed in Miami, Florida.  The judge dismissed the case, saying that the cruise line was not responsible for the negligence of its medical staff.  The federal appeals court, in Atlanta, reversed that decision, saying that the passenger's family had a right to sue Royal Caribbean directly.   The appeals court noted that modern cruise ships have extensive medical centers and Royal Caribbean had even advertised that its ships have state of the art medical facilities, which creates confidence in the public that if they have a medical problem while on board the ship, it can be properly treated.  
This is an important decision that significantly expands passengers' rights and encourages cruise lines to ensure that their medical staff are properly trained and equipped.  Overall, this decision will help keep passengers safe on board cruise ships.  
If you have been injured on board a cruise ship, such as Royal Caribbean, Celebrity, Carnival, Norwegian or Disney, you have only a short period of time in which to pursue a case.  Most lawyers do not handle cases against cruise lines.  Our office has handled many such cases, and we offer a free initial consultation.  We would be happy to discuss your cruise ship injury case with you.  Please feel free to give us a call.
Our office regularly handles lawsuits and claims on behalf of cruise ship passengers who were injured on a ship operated by Norwegian Cruise Line (NCL). 
Many people suffer injuries on cruise ships.  Some are caused by the negligence of the crew or the design of the ship.  Many people fall when getting on or off cruise ships, or going up or down stairs.  Others are injured in their stateroom, on the deck of the ship or in the pool on board the ship.  Some people become ill on board a cruise, either from the food or an outbreak of a preventable illness.
Norwegian Cruise Line operates these cruise ships:
Norwegian Breakaway
Norwegian Dawn
Norwegian Epic
Norwegian Escape
Norwegian Gem
Norwegian Getaway
Norwegian Jade
Norwegian Jewel
Norwegian Pearl
Norwegian Pride of America
Norwegian Sky
Norwegian Spirit
Norwegian Star
Norwegian Sun
If you were injured aboard a Norwegian Cruise Line ship, you must file a lawsuit against the cruise line within one year of the date on which you were injured.  The lawsuit must be filed in the United States District Court in Miami, Florida.  There are other required actions before you can file a lawsuit.
You should consult with an experienced cruise ship injury lawyer right away, or you may lose your right to pursue a claim in court.  Suing cruise lines is a unique area of the law.  Our office has the experience to represent you in your case.  Steven Meyer is an experienced cruise ship injury lawyer and The Florida Bar has designated him as an expert in civil trial law. Only lawyers who are board certified are permitted to call themselves experts or specialists in that field.
We offer a free consultation.  There is no obligation.  Please call us today if you have been injured on board a Norwegian Cruise Line (NCL) ship.  There is no time to waste.
The United States District Courthouse in Miami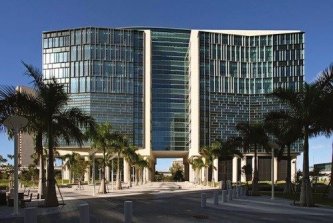 Before You Depart for your Next Carnival Cruise, Review These Tips from a Cruise Ship Lawyer
It is hard to imagine that an idyllic cruise to distant ports could be anything but the vacation of a lifetime.  You should take certain steps before you embark to ensure that you are prepared to handle any mishaps along the way.   Our cruise ship law firm offers the following tips to help you before, during and after your journey. 
Medical Attention Abroad
If you are injured on board a cruise ship, a local hospital can provide more complete care than the ship's infirmary.  To prepare for potential injuries abroad:
Ask your travel agent before you go what medical treatment options will be available.

Is the onboard physician licensed in the United States?
Do the medical personnel speak English?

Does the ship have the capability of conducting forensic examinations in the event of a sexual assault.
Check if your medical insurance will provide coverage abroad.  Medical evacuation to the United States can be extremely expensive.  Many U.S. medical insurances are not accepted in other countries.  The U.S. State Department recommends that you contact your insurance provider to see if coverage applies, and, if it doesn't, obtaining coverage that does.
Personal Safety Abroad
Traveling to foreign countries in today's security-conscious world presents unique challenges.
The State Department's website
can help you become acquainted with local customs and law. The State Department provides country-specific safety information to consider before your travels as well as
tips
for traveling abroad.  You can also sign up for the Smart Traveler Enrollment Program (STEP), a free service by the U.S. Government to citizens traveling abroad so that the State Department can more quickly assist you in the event of an emergency.
8 Steps to Take If You Are the Victim of a Crime on a Cruise Ship
Cruise ships pack thousands of people onto one vessel. During the course of the cruise, a variety of employees, including butlers and cleaning staff, will have access to your cabin. Crimes aboard cruise ships sometimes occur. If you are the victim of a crime during the course of your cruise, you should:
Immediately report, in writing, the incident to the security department on the ship.
Document who you reported the crime to, when you reported it and who was with you.
Obtain a copy of your written report.
Take photographs of the scene of the incident before it changes, if possible. Even if the scene has changed, take photographs.
Write down the name, address, and telephone number of each person who was a witness to the incident.
Visit the ship's doctor to seek treatment for your injury.
If necessary, visit a shore-based doctor at the next port of call.
Contact an experienced lawyer to discuss the incident as soon as possible
Review our Cruising Guide
If you are interested in learning even more, please read our firm's "know-before-you-go" cruising guide.   It is available upon request from our cruise injury law firm.  Download it and take it with you on your smartphone, iPad or Kindle.  
What would you do if you were injured on a cruise ship and found yourself stranded in a foreign country without adequate medical care?  
Major news networks reported that a passenger on a Royal Caribbean cruise ship in the Mediterranean slipped and fell on board the ship, breaking his hip.  The next port was in Turkey.  The ship's crew called a taxi that transported the passenger and his wife to a local hospital.  
The hospital was so dirty that the man's wife worried that he would get an infection if he had to stay there long.   To make matters worse, no one at the hospital spoke English, and they did not allow women inside their facility because of strict cultural mores.  Then, the couple found out that the hospital was not equipped to conduct the surgery that the husband needed. 
Stranded and left without any assistance by Royal Caribbean, the couple managed to get into contact with an English-speaking tour guide who found alternative transportation for the couple to a hospital in Istanbul, after Royal Caribbean's insurance company cancelled their first attempt at transportation.
According to
 New York Daily News
, the husband was safely transported to a better hospital where appropriate medical care was provided, thanks to the Turkish tour guide who even donated his own blood for the passenger's surgery!  
The couple was shocked by Royal Caribbean's actions, especially since they were only on the cruise because they were offered a free ticket as a goodwill gesture after their last cruise ship caught on fire.
Even though the accident occurred in a foreign country, maritime law requires cruise lines to provide passengers with reasonable care in the case of an on board injury.  If you have been injured while on a cruise, please don't wait to contact an experienced attorney.  When making a claim against a cruise line, you probably only have six months to notify the cruise line in writing about the injury, and only one year in which to file a lawsuit.  
Most lawsuits against cruise lines must be filed in South Florida.  Therefore, if you have been injured while on board a cruise ship, it is imperative that you contact an experienced cruise ship injury attorney in Florida as soon as possible.  
Our office has handled many claims against cruise lines on behalf of injured passengers.  In fact, in a jury trial in Miami against Celebrity Cruises (which is owned by Royal Caribbean), we obtained a jury verdict of over $2,676,000 on behalf of an injured passenger, which is believed to be the largest jury verdict in a passenger-injury claim against in a cruise line in the country in the last several years.  
Steven Meyer has been board certified by The Florida Bar as a specialist in Civil Trial Law, which includes personal injury claims.  Only a small percentage of attorneys in Florida hold this certification, which indicates that the attorney is an expert in this area of the law.  
We offer a free initial consultation.  Please give us a call at (561) 864-0007.  
We have all been following the story of the Carnival Cruise Line ship Triumph, which was stranded in the Gulf of Mexico after a fire damaged the ship's engine.  That passengers have been trapped on board the ship, which has no electricity and few working toilets. 
Those of you who have been on cruises know how big these ships are.  Imagine how difficult it has been on the Carnival Triumph for many passengers to move from deck to deck without elevators. 
The cruise lines' passenger tickets limit the rights of passengers to sue the cruise line.  Do the passengers aboard the Carnival Triumph have any right to sue Carnival Cruise Line?  Possibly. 
Certainly, if a passenger was injured aboard the Carnival Triumph or any other cruise ship, he or she can make a legal claim against the cruise line to recover for his or her injuries.  Injuries can occur from falls, illness caused by the food or unsanitary conditions on the ship, defective equipment or furniture on the ship, altercations with other passengers or crew members, or in many other ways.
Any claim against Carnival Cruise Line must be filed in court in Miami, Florida, no matter where the passenger lives.  Also, there are strict time limits in which to make a claim, so it is very important for an injured passenger to contact an experienced cruise ship injury lawyer in Florida right away to preserve his or her rights.
If a passenger was aboard the Carnival Triumph and was not physically injured, he or she should still consult an experienced cruise ship injury attorney to review his or her rights. 
Steven Meyer is board certified by The Florida Bar as an expert in civil trial cases.  This field includes injury cases, such as injuries or accidents on a cruise ship.  If you were on board the Carnival Triumph, a consultation with an experienced cruise ship accident lawyer is well worth your time.
There are frequent stories about a large number of passengers on a cruise ship becoming ill.  If you become ill on a cruise ship, you may want to consult with an experienced cruise ship injury lawyer.
Our office handles cases against Royal Caribbean, Celebrity, Norwegian, Carnival, Disney and other cruise lines. 

The Centers for Disease Control and Prevention's
Vessel Sanitation Program
(VSP) is designed to prevent and control the spread of cruise ship illness claims and diseases, by implementing regular inspections and regulations.

The VSP inspects cruise ships periodically.   It monitors outbreaks and trains crew members on public health practices.   Ships sailing out of US ports are inspected at least twice a year.   One visit is announced; the other a surprise. 
Cruise ship owners pay for the inspections based upon the weight of the ship. Prices range from $1,300 to $15,600 per inspection depending on the ship's size. Inspectors examine the medical facilities, drinking water, swimming pools, food service, childcare centers, hotel services, ventilation and common areas. A final report is prepared and sent to the cruise line.
Ships are graded on a 100 point scale. Points are deducted whenever a safety violation is found. Certain violations are easily fixed immediately, often during the actual inspection. Other more complicated issues may take longer to correct.
If a ship fails an inspection that is deemed to be an "imminent public health risk" that jeopardizes passenger safety, the VSP can recommend that the ship be docked. Imminent public health risks are:
1. Undrinkable water.
2. Unsafe food preparation.
3. Inadequate cleaning equipment.
4. Inadequate waste disposal.
5. An infectious disease outbreak.
If you are about to take a cruise, I urge you to review your ship's annual inspection report.  For example, in November, 2012, inspectors gave the "Amadea," a ship operated by the Phoenix Reissen Cruise Line a score of 63 out of 100!  It's potable water production system was operating improperly and without appropriate maintenance or inspection. Inspectors also found no water production records for the entire month of November.
Cruise ships can be a wonderful way to travel and see the world. But selecting the correct cruise line and ship can make the difference between having a great vacation or getting sick. Please check out how healthy your ship is before booking your next cruise.  
Remember also that if you become ill while on a cruise, don't wait to contact an experienced cruise ship accident attorney.  Steven Meyer is an expert in handling civil trial cases, which includes injuries on cruise ships.
Hurricane Sandy left a path of death and destruction in the Carribean and the US states along the Atlantic coast.  Our thoughts and prayers go out to the people who lost loved ones and their homes.
The Hurricane seriously affected the cruise ship industry, leading many to wonder how many passengers and crewmembers will be in need of a cruise ship injury lawyer.  Dozens of cruise ships had to change their intineraries to avoid the storm.   One ship, the Carnival Glory, had its own rocky start to a Caribbean itinerary due to the storm.
According to a Cruise Bruise report, Gretchen Rhodecap, a travel agent, was on board the Carnival Glory when the storm was making its way through the Bahamas. Rhodecap explained the sailing was anything but smooth after a passenger suffered a medical emergency during the storm.
"There was a medical emergency onboard the Carnival Glory last night and the ship had to turn around and head back to Norfolk so the Coast Guard could reach us to airlift the person off at around 11pm... so now we are arriving Nassau late..." recounted Rhodecap.
As Hurricane Sandy drew near, it caused the ship to rock back and forth.  Rhodecap said that being on the cruise ship was like "being on a rollercoaster."
"Carnival Glory changed the itinerary again due to Tropical Storm Sandy.... our port of call Friday at Freeport has been canceled... and we are not overnighting in Nassau either.  We will instead be docking at Port Canaveral... three days in Bahamas just turned into a half day and then Florida..."
The itinerary changes didn't stop there.  Rhodecap later wrote that the ship did not dock in Florida after all.  The ship had to remain at sea for three days to avoid the storm.
"We aren't going anywhere... word around the ship is that we are going further out into the Atlantic to avoid some of storm."
Rhodecap added that along with passengers, "there were a lot of crew at the medical center."
While no severe injuries have been reported due to Sandy, nearly everyone on board the Glory and other cruise lines who were affected by the wind and waves became ill with motion sickness.
It may be some time before we hear stories of more serious injuries.   Anyone who has suffered an accident onboard any cruise ship because of the storm is encouraged to seek legal help immediately.  Our office handles cruise ship injury cases, and we are here to help you obtain the maximum compensation for your injuries, and your pain and suffering.  Please call our firm today to get started on your injury claim right away.
Following a court hearing in the Costa Concordia cruise accident case, the captain of the ship has issued a public apology to passengers and to the family members of those who died in the tragedy. Captain Francesco Schettino, who has been blamed for the capsizing of the ship off the coast of Italy in January, was charged with manslaughter and abandoning ship. Thirty-two people died in the tragedy and scores of survivors were injured, but the captain has asserted in court that he did nothing wrong. However, this week he apologized to some of the survivors for his actions.
The Concordia cruise ship capsized on January 13 just off the small island of Giglio.  The ship hit a rock which tore a gash in its hull and the captain was blamed for altering the direction of the ship, which ultimately led to the tragic cruise ship accident. While Schettino admitted he made mistakes, he has accused the company of mishandling the situation after it fired him.  He has actually sued Costa Cruises, a wholly owned subsidiary of Carnival Corp., for wrongful termination of his employment. 
Schettino is accused of abandoning the ship before his passengers and crew were safe.   The fact that he has decided to sue the cruise line for his termination is beyond belief for critics. The captain is in the midst of pre-trial hearings that will determine whether or not he will go to trial. Schettino faces multiple charges of manslaughter and abandoning ship, but he isn't the only one being investigated. Eight other crewmembers, as well as the ship's owner, are being accused of contributing to the cruise ship accident. Surviving passengers corroborate that the evacuation process was extremely chaotic and no crewmember seemed to know what they were doing. The bodies of two missing passengers have yet to be recovered as well and the cruise ship currently sits half-submerged near Giglio.
While fingers are being pointed at the captain, Costa Cruises shares the blame. Because cruise lines are responsible for the safety of their passengers and crew, accidents that occur at sea can result in the cruise line itself being held accountable. Unfortunately, cruise line operators do everything possible to try and avoid taking responsibility when a cruise ship accident occurs, but having a top cruise ship injury attorney on your side will ensure your rights as a cruise injury victim are upheld.
Our office is currently representing many passengers who have been injured on cruise ships.  We will work diligently to secure you and your loved ones the compensation you deserve.   Earlier this year, we obtained a jury verdict of over $2,676,000 in a trial in Miami against a cruise line.
Call our office to discuss your options and to get started on your cruise injury accident case today.
On behalf of the Law Offices of Steven H. Meyer, P.A. in Boca Raton, Florida, posted on Monday, September 11, 2012
Cruise ships can offer great family vacations.  Unfortunately, many people are also injured on cruises.  Our ofice represents many people who are injured on cruises.  There are strict guidelines that passengers must follow in order to make a claim, including a very short time limit to file a claim.   Many cruise lines require passengers to file a claim in Miami, Florida, irrespective of where the ship was located when the injury occurred. 
If you're injured, consult with an attorney who handles these claims as soon as possible to find out about your rights.
Many injuries are the result of the negligence of the cruise line.  However, other incidents involve assaults by passengers, many of whom have had too much to drink. 
A 31 year old man has been charged by federal authorities for participating in the alleged rape of a teenage girl aboard the ship Carnival Sensation.   The man claims he passed out and did not participate in the alleged attack.  Several teenage boys have also been accused of participating  in the assault.  However, federal prosecutors have not yet charged them, because the Attorney General of the United States must give them permission to do so.  
Medical personnel on the ship treated the girl for her injuries.  Carnival says it reported the incident to federal authorities as soon as the girl and her family told them what had happened.
As a result of the case, the FBI reiterated some tips for families traveling with children on cruises. While some of the suggestions might seem like an overabundance of caution, no family wants to find itself in the situation the girl and her family have had to endure. Some of the tips include:
Don't let your kids wander alone, especially in unfamiliar areas. Nobody can be sure of the character of everyone aboard.
Don't let kids socialize with unknown people or reveal personal information to them.
Don't let kids use public restrooms without parental oversight.
Our office is currently representing many passengers who have been injured on cruise ships. We will work diligently to secure you and your loved ones the compensation you deserve. Earlier this year, we obtained a jury verdict of over $2,676,000 in a trial in Miami against a cruise line.
Call our office to discuss your options and to get started on your cruise injury accident case today.
/